Patrice Evra holds Manchester United in reverence.
Since joining us in 2006, Evra has grown to become a fan favourite and when he says things like this:
"I got a load of DVDs about the Munich disaster and the Busby Babes, about Bobby Charlton, George Best and Denis Law, about Cantona. The whole story of the club.

"You meet these people around the club and I wanted to know who they were. What they had done for the club. Out of respect. Because when you shake the hand of Sir Bobby Charlton you can feel the legend.

'All the young players here need to understand the history of the club. After I watched those DVDs I realised I needed to respect the shirt. I needed to respect the story. Every time I play that is in my head. What a privilege it is to play for Manchester United. When you pull on the shirt you are pulling on history, and I say thanks to God that I play for this club.

'To be able to come in and train here. To work with legends like Ryan Giggs and Paul Scholes. When I arrived here people asked me what excited me most. I said it was not training with Ronaldo and Wayne Rooney but players like Giggs and Scholes. They are the history of the club.

"Giggs trains like a player who has never won anything in his career. His hunger. His desire to win, even on the training pitch."
You can't help but love him.
And in today's game against Liverpool he gave us further reason. Walking off the pitch after being kicked by Luis Suarez, Evra showed Liverpool fans where to get off as they abused him by first blowing a kiss to them then kissing his badge!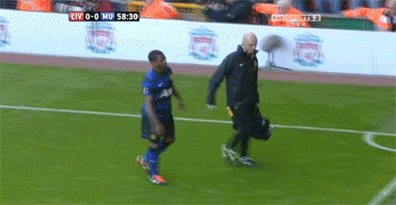 Thanks to Olly for the gifs as usual!